Tim Reynolds is one of this generation's living legends. His career spans decades, with no sign of letting up. Perhaps best known for his proficiency with a guitar, Reynolds has mastered every instrument he has attempted, from piano to drum machines. He can lead you down an enchanted journey of a slow blues guitar, or ramp up the energy with a rocking redention of a Led Zeppelin tune.  This Thursday Tim Reynolds & TR3 showcase their many talents at Trees in Deep Ellum.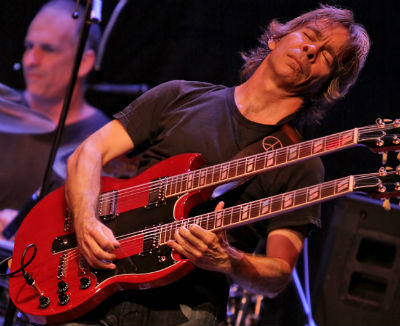 The Dave Matthews Band, one of the most loved jam bands of our time, has been lucky enough to call Reynolds their lead guitarist since the late 90's, including acoustic duo sets with Dave which became a coveted ticket item. Fewer people may know about a solo project, TR3(Tim Reynolds Trio), that Tim founded in 1984. It was through touring with TR3 that Reynolds met Dave Matthews and their collective talents merged. The trio is an eclectic blend of rock, jazz, and funk, and Tim Reynolds has a penchant for being able to take his audience on an audible odyssey. Although he took a hiatus from TR3 to pursue solo ventures, it was in 2007 that Reynolds met bassist Mick Vaughn and drummer Dan Martier and the Tim Reynolds Trio was ressurected.
It's safe to say that whichever incarnation of Tim Reynolds you see, you can bet it will be memorable. The genius of a musical mind like Reynolds should be celebrated, so come out on November 20th to Trees in Deep Ellum and join in the festivities!
Visit https://www.ticketfly.com/purchase/event/676305 to snag your tickets before they're gone!