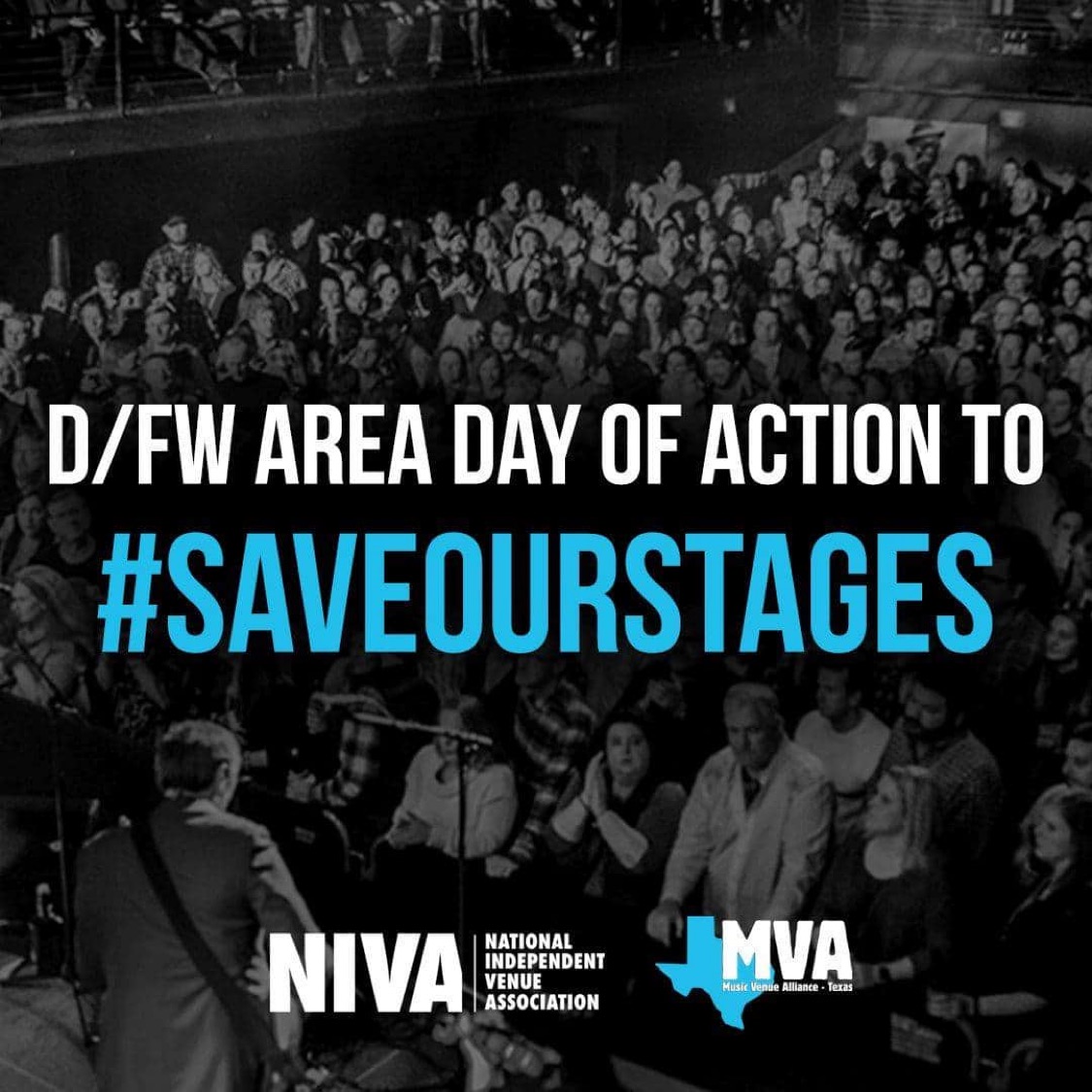 Time is running out to save our favorite DFW independent venues so we are calling on all music fans to TAKE ACTION and CALL representatives in Congress to #SaveOurStages on Tuesday August 4th. We are choosing a specific day to flood the phone-lines to make sure Congress takes notice and that our VOICES are heard!
Below is a list of DFW representatives that have yet to officially sign on to the Save Our Stages Act which was introduced last week by Senators Klobuchar & Cornyn has bipartisan support.
You will also find a script with talking points. Please call each representative!
CALL THESE REPS!
Eddie Bernice Johnson
D.C. Office: 202 225 8885
Dallas Office: 214 922 8885
Michael Burgess
D.C Office: 202 225 7772
Lake Dallas Office: 940 497 5031
Kay Granger
D.C. Office 202 225 5071
Fort Worth Office 817 338 0909
Marc Veasey
D.C. Office 202 225 9897
Dallas Office 214 741 1387
Fort Worth Office 817 920 9086
Colin Allred
D.C. Office 202 225 2231
Dallas Offce 972 972 7949
/////////////////////////////////////////////////////////////////////////
PHONE SCRIPT
Hello,
My name is _______ and I am calling in support of the National Independent Venue Association (NIVA) and Music Venue Alliance – Texas. Without federal support, 90% of independently owned live music venues will close by the end of the year. I ask you to please support the Save Our Stages Act, introduced by Senators Cornyn and Klobuchar in the Senate, and Representatives Welch and Williams in the House. If you have not already agreed to cosponsor the RESTART Act, introduced by Senators Young and Bennet in the Senate and Representatives Golden and Kelly in the House, I ask for your support there as well. If you have agreed to co-sponsor RESTART, I thank you greatly! Both of these pieces of legislation will ensure the survival of independent venues – the bedrock of the live music industry.
Venues are experiencing upwards of 90% revenue loss and will be closed well into 2021 due to safety concerns posed by large gatherings. Without support from Congress, 90% of NIVA's independent venues across America say they will be forced to close their doors forever.
This would also take a toll on our local economy. Independent music venues are economic multipliers, community builders, and beloved institutions. A Chicago study estimated that $1 spent at a small venue resulted in $12 of economic activities for neighboring restaurants, hotels, and retail shops.
Thank you for your hard work for our state and our country in these absolutely uncharted times.